TigerShark Block 4 is a complete redesign of the current TigerShark airframe designed by Sonex Aerospace. TS Block 4 is intended to offer the added benefit of fully-retractable gear, and leverage CNC laser-cutting and machining technology for unparalleled speed and economy in serial production.
The concept offers a large main payload bay volume, large upper fuselage dome payload capacity, and more available fuel capacity than TigerShark, while still offering belly and wing stores capability. Rectangular form-factor of main payload bay and overall structure allows for modular "rack-mount" payload capability with fast mission conversion capability.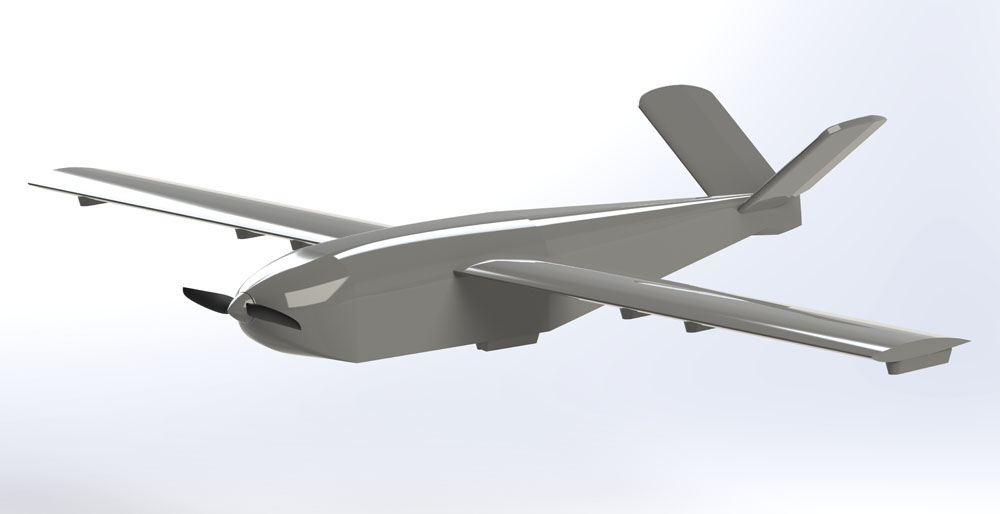 The vehicle's all-metal, blind rivet construction allows not-only speed and economy of manufacturing, but also allows speed and economy of field maintenance by typical airframe structural mechanics with common tools and materials, and increased airframe life span.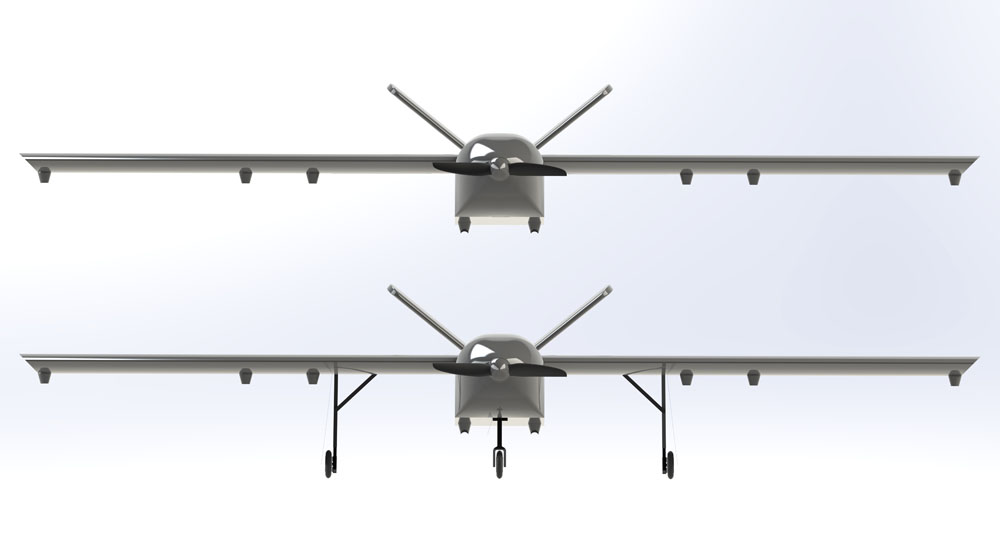 Traditional "tractor" powerplant configuration offers maximum slipstream effectiveness of wing and control surfaces for improved short-field capability and low speed controllability, while reducing FOD damage to propellers due to landing gear pickup of runway/taxiway debris, or departure of hardware from aircraft. Tractor configuration also offers more fuselage surface area and volume for mission payload and antennas vs. the short fuselage and boom tube tail configuration of previous TigerShark production blocks, and generally offers a significant reduction in noise signature vs. pusher installations.

Fully retractable landing gear offers unobstructed downward, forward, rear, and side-looking imaging, along with reduced drag for improved performance and efficiency.
SPECIFICATIONS & PERFORMANCE

Standard Version:
24 hr Loiter Version:

Span: 21.5'
Length: 15'
Wing Area: 59.5 sq ft
Empty Weight: 250 lbs
MTOW: 600 lbs
Useful Load: 350 lbs
Stall Speed: ~ 33 KCAS
Top Speed: ~ 120 KTAS
Fuel Capacity: 20-30 U.S. Gal

Span: 31.5'
Length: 15'
Wing Area: 86 sq ft
Empty Weight: 280 lbs
MTOW: 800 lbs
Useful Load: 520 lbs
Stall Speed: ~ 33 KCAS
Top Speed: ~ 110 KTAS
Fuel Capacity: 20-30 U.S. Gal

Payload Capacity (avionics & servos + mission payload): 170 lbs (30 gallons fuel) to 230 lbs (20 gallons fuel)

Payload Capacity (avionics & servos + mission payload): 340 lbs (30 gallons fuel) to 400 lbs (20 gallons fuel)

Main Mission Payload Bay Dimensions: ~ 22"W x 36"L x 16"H
Ground Clearance for Fuselage and Wing Stores:

Fuselage: ~ 16"
Wing: ~ 25"

All Versions Include Automatic Takeoff and Landing (ATOL) Capability

Aux. Payload Options:

Belly & Wing Stores
Top Fuselage Dome -- full length ("canopy/windshield" and turtledeck areas with fully removable cover panels allowing easy access to entire fuselage interior)

Basic Configuration:

Tricycle Gear, Retractable
Tractor Engine Configuration
Center Section Wing with Easily Removable Outboard Wing Panels - Fuel on CG

Engine Options:

Herbrandson Dyad 370, 372 cc & other current TS internal combustion engine options
Ultralight Industry Engines: Kawasaki 440, Rotax, Hirth, etc.
UAV Turbines turboprop
Specifications & Performance subject to change without notice
| | | |
| --- | --- | --- |
| Fully retractable landing gear based-on the SubSonex jet aircraft gear system offers drag reduction and clear line-of-sight for payload sensors. | | |
| | | |
| --- | --- | --- |
| | | TigerShark Block 4 features modular line-replaceable payload rack mounting in a rectangular space, in addition to ample capacity for external stores. |
TigerShark Block 4 is designed to use the new line of small, efficient turboprop engines from UAV Turbines, in addition to all current TigerShark internal combustion engines.